CANINE SEIZURES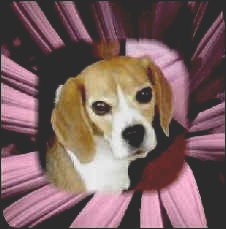 Canine Seizures, contains information about seizures in dogs that every owner of an epileptic dog should know. "Canine Seizures" was created in honor of our adopted, epileptic beagle, Radar. This web site is not intended to replace veterinary care, but rather to help you understand what seizures are and give you some suggestions on how to live more comfortably with an epileptic dog. The site includes an explanation of what happens during a seizure, how to care for your dog after a seizure, medications used to treat canine epilepsy (Phenobarbital, potassium bromide, valium, gabapentin etc), some of the diseases that can cause seizures, and answers to questions that owners of epileptic dogs frequently have.
Although watching your dog have a seizure for the first time can be terrifying, epilepsy in dogs is not a death sentence. Most dogs live long, happy, normal lives despite their seizures.
The navigation at the top and bottom of each page will take you to each chapter of the web site, or click on the site-map for a complete list of articles . The site can be read as a book from beginning to end, or you can browse to the subjects that interest you.
If you have any comments or questions about your dog's seizures, I would love to hear from you. Please click here to send us an email.